Hello everyone, and welcome to the first official IRON program!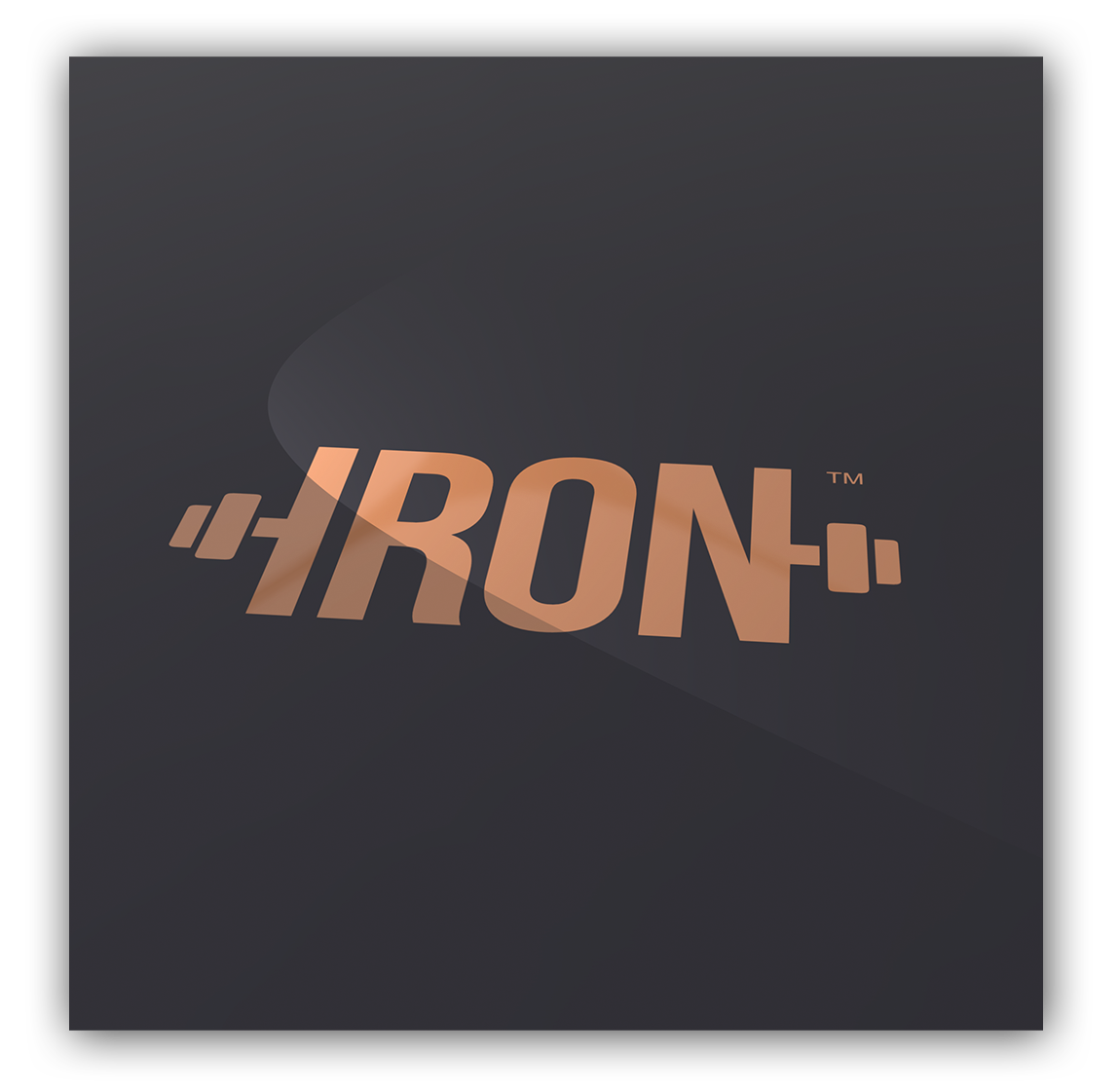 What is the IRON program?
The IRON program is a 10-week program with the focus being to build!
The IRON series available on YouTube is six weeks in duration, whereas the IRON program (and all existing and subsequent programs) is ten weeks in duration.
The IRON program is geared towards hypertrophy training, with the intent to increase muscle size. We can produce hypertrophy through many variables, but the main outcome we are aiming for through our training is primarily mechanical tension appearing to be the main driver, with metabolic stress and muscle damage having the potential role, but further research is required to understand their roles in muscle growth.
Training across a wide range of loads and reaching near failure appears to be our main considerations when training due to the high mechanical tension produced.
Research is still emerging regarding training the muscle in the lengthened position, and it appears we can have confidence this produces hypertrophy.
We will be utilising different training methods that cross both myofibrillar and sarcoplasmic hypertrophy.
Myofibrillar training refers to increases in the number of myofibrils that are found within the muscle fibres. It does this as a response to the 'injury' inflicted on the muscle fibres. This increase promotes both strength and density!
Sarcoplasmic training is the increase in sarcoplasmic fluid within the muscle, which promotes increased size of the muscle. Think 'bodyweight heel elevated squats' or 'tricep cobra push ups' during finishers… essentially the pump! This is typically short-lived, but it has benefits and is associated with metabolic stress.
The pump ('transient hypertrophy' is the official term) we experience is from extra blood pumping to that muscle. And with this extra blood, the number of blood vessels increases, which helps support further growth. As a result of the muscle being pumped past its 'normal' size, it stretches the fascial layer just outside the muscle, allowing room for more growth over time!
Interestingly, although temporary, many bodybuilders use the pump as a visual indicator of how their physique may look as they progress in hypertrophy!
Both types are within the IRON program. However, most workouts will involve myofibrillar training, with sarcoplasmic training toward the end of each session. Who doesn't appreciate the feeling of a good pump at the end of a workout?!
And if you want to deep dive into the science behind transient hypertrophy, you can read 'The Pump', which can be found within the Knowledge section under the filter 'Deep Dive'.

Who is the IRON program for?
The IRON program is intended for anyone wanting to build muscle and increase strength. This is a structured and challenging ten weeks that incorporate primarily staple compound movements along with isolation exercises, usually towards the end of the workout, with short-duration finishers for a final push and fun.
This program can be made your own in so many ways:
Hip thrust with a barbell or dumbbell
Perform pull-ups or cable pull-downs instead of pullovers
Use bodyweight instead of dumbbells
Chest press on a bench instead of a mat
Whatever equipment you have access to, you can use it!

Is there a printable IRON program calendar?
We get it – sometimes it's easier to have a physical copy to stick on your fridge to track your progress. Not to worry, we've got you covered!
We have two versions of the IRON program calendar available for download: one in full colour, perfect for digital use, and one in black and white, which is great for printing and saves on ink. Click on the links below to get started and choose the version that suits you best. Happy printing!

What is the best way to schedule the workouts?
The program is based on five workouts per week across ten weeks. The IRON calendar can be altered to suit your preferences, energy levels, and life commitments. We all have commitments, so you can do these workouts any time that suits you! Morning, evening, or keep the entire weekend as a rest.
Again, this is simply a suggestion! You can even complete four workouts per week, for example, and train for two days, then rest for two days and so on. You can even fit in a run on a Sunday if you like, as opposed to the HIIT / cardio session if you enjoy running.

What is the format of the program?
The program is based on five workouts per week across 10 weeks. Each workout is approximately 30 minutes duration.
There will usually be 2x upper-body focused workouts and 2x lower-body focused workouts per week, with a full-body workout each Friday.
It can be a great idea to record the weights you are using as you may consider repeating this 10-week program and progressively overloading with heavier weights for some of the movements 2nd time around. This is particularly relevant if you are new to training, as you will likely increase the weight you can lift earlier than you might think!
Some exercises appear more susceptible to progressive overload than others, so we shouldn't expect linear progress across all muscles.
Compound movements will contribute to most of the formatting of each workout, with more isolation exercises (targeting one muscle at a time) will be positioned post the compound movements. The only time when there may be more isolation will likely be an arm-specific day!
We will mostly perform the same compound movements on rotation during the workouts. For example, the lower body contains squat, lunge, and hinging variations, and the upper body contains rows, presses and pushing. However, within even a squat, we have the ability to include variations.
We will move through the sagittal plane during most of the exercises, with specific exercises incorporated to force us across different planes of movement.
The Friday full-body workout will involve at least one exercise to target each major muscle group. The formatting may differ from other workouts and may include circuits, complexes, elements geared towards 'conditioning', or 'ab specific' contained within, though the main compound exercises will still be present.
The full-body workout may occasionally be a workout where I reduce the weight I use intentionally, so I am working across a spectrum of different rep ranges within the IRON program.
Some training methods you will experience in the IRON program to ignite the anabolic response include:
Straight sets Supersets, trisets and giant sets. These sets with no specific rest period in between may appear, though to a lesser extent than other programs.
Myo-reps I have always incorporated this type of rest/pause sets in many of my workouts! You will regularly see me simply set the weight down or pause, reset, and go again! Myo-reps can be very effective at increasing muscle growth.
Cluster sets A cluster set can take many forms, and this program will typically involve the same exercise, performed for 4-6 short sets with a short duration of rest between each set. Cluster sets can produce a large amount of mechanical stress on the muscles!
Drop sets Drop sets could be related to mechanical (the exercise itself changing) or weight used.
Isometrics Examples include a squat hold or a plank. Simply put, a static muscle contraction! We isometrically contract many muscles when we lift; we aren't sometimes aware of it! Our lats during an RDL, our shoulders during a curl, and our glutes during an overhead press!
Pre-exhaustion training Isolation before a compound movement. An example is bicep curls before a row! This is a technique I love as it means I can simply make that row feel heavier without an increase in the load.
Post-exhaustion training Compound post to an isolation movement. An example is bicep curls post a row!
Antagonist training This programming can assist in increasing work capacity by training opposing muscles such as the chest and back or biceps and triceps. Even though the biceps rest during a tricep extension, they are still active!
Continuous tension sets These will be a reoccurring type of set and one of my favourite ways to increase muscular tension without increasing the actual load. An example is squats without locking out at the top!
The occasional input from momentum 'Negatives' or slower eccentrics and tempo variability. Eccentric training is associated with high mechanical tension; we simply emphasise eccentric to different degrees. We may use momentum on the concentric (think to curl the dumbbell up) whilst controlling the lowering portion. This will likely be towards the end of workouts due to muscle fatigue, particularly during the concentric phase, as we tend to be stronger during the eccentric.
Stretch-mediated hypertrophy emphasis Essentially, this emphasises stretch-mediated hypertrophy through the full range of motion (context here as everyone's range of movement may differ). This is something that most of us could improve on when lifting. However, it takes time and experience to have that mind-to-muscle connection, alignment and spatial awareness, which helps improve the stretch and the following contraction, so don't rush this skill… it will come!
Finishers 'Finishers' at the end of each workout will vary but typically involve higher reps and constant tension to promote the pump and that feel-good feeling!

What if I have never lifted before?
If you are new to lifting weights, The Ultimate Beginner Program could be great!
It is a structured, 6-week program that provides a calm and inviting atmosphere to guide you through the most common movements performed with weights as resistance. It is also great for someone who has been training for a while and wants to learn more about gaining more out of their training…it is packed with tips, cues, my own learning experience, variations, modifications, and insights into progression. A great precursor to IRON!
It is available within 'Programs' to begin and work through at a pace that suits you!
Simply visit the Knowledge section and type 'Beginner' into the search button to access The Ultimate Beginner FAQs to learn more!

Do the workouts include a warm-up?
There is an appropriate suggested warm-up that will appear before the workout commences. Once complete, the brief will appear, where I will provide a quick introduction and overview of the workout itself.
You can select 'skip warm up' if you prefer to perform your own routine!

Do the workouts include a cool-down?
Yes, a gentle cool down is provided. However, please feel free to relax on your mat for as long as you wish!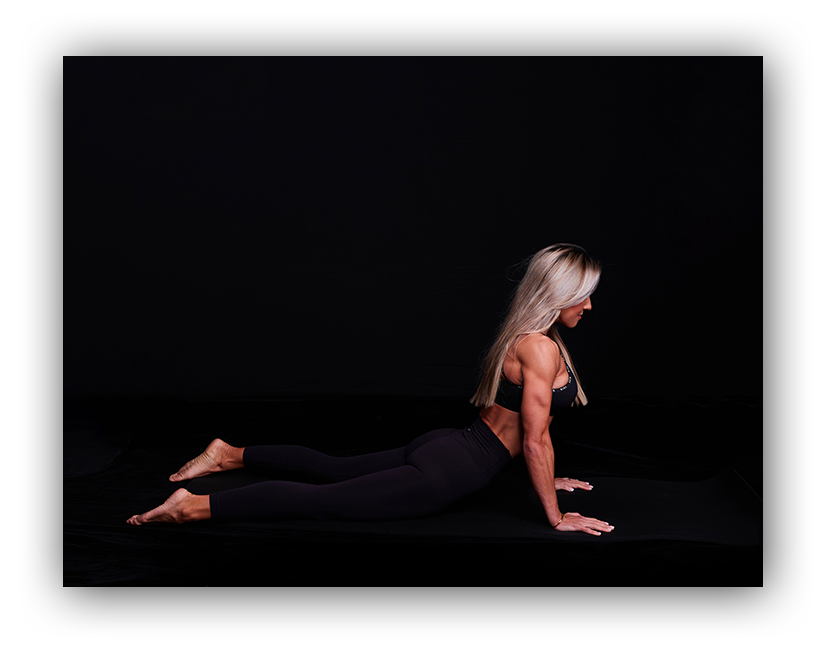 What equipment do I need?
Below is a list of suggested equipment, however, you can implement many other types depending on your access.
We would consider a good, non-slip mat, dumbbells, and a glute band as the minimum to complete IRON. However, additional equipment will often allow for progressions of a certain exercise:
A pair of dumbbells (ideally a heavier pair and a lighter pair)
A mat
A chair (mainly for hip thrusts, decline push-ups, dips & Bulgarian lunges)
A yoga block
Note: It is possible to complete this program with no chair or yoga block if preferred. Here are some suggestions for alternatives:
Hip thrusts / glute bridges on a mat
Decline push-ups / standard push-ups or pike push-ups
Dips / tricep push-ups / tricep press
Bulgarian lunges / regular lunges
Can I use different equipment?
Absolutely! Here are some excellent alternatives if you can gain access to other equipment:
Tricep push-down instead of a dumbbell tricep exercise
Pull-ups on pull-up bar instead of a pullover
Lat pull-down instead of a pullover
Smith machine squat instead of a dumbbell squat
Leg press instead of a dumbbell squat
Landmine / Viking press instead of dumbbell shoulder press
Leg extension instead of a heel-elevated squat
Barbell chest press instead of dumbbells
Cable flyes instead of dumbbell flyes
Cable rope frontal raise instead of dumbbell frontal raises
Landmine row instead of a dumbbell bent over row
Caroline's equipment
For this series, I will be using several pieces of equipment, however, you can add or remove some of these. I will provide suggestions below.
If you purchase or use new equipment, please take your time to get accustomed to the positioning, such as wedges or a step-up box, especially before you add weight. I will try out some types of wedges as we go through IRON, so you will likely see me playing about with them at points and manoeuvring them.
I am very much a creature of habit and have used the same yoga blocks for years, so using a wedge may feel different for me!
Also, if increasing weight, bear in mind that dumbbells increase from 10kg to 12.5kg shoulder press; this is a 25% increase in weight per dumbbell, so just something to be aware of.
I have updated my Amazon pages (both the UK and USA pages) to cover a range of equipment that you may find useful:
Some of the below-mentioned equipment is also from a UK-based company called Mirafit. (Note: I DO NOT receive any commission from this company. I can recommend this company having experience placing orders with them.) Mirafit is where I purchased my 4ft barbell for hip thrusts, and all of my dumbbells and bar collars; everything else I purchased from Amazon.
Below is a list of equipment they provide that you may find useful, aside from Amazon, for training:
MIRAFIT HIP THRUST BENCH
MIRAFIT HEX DUMBBELLS
MIRAFIT 2" OLYMPIC BARBELL WEIGHT BAR - 4FT
MIRAFIT 2" OLYMPIC WEIGHT BAR COLLARS
MIRAFIT CAST IRON 2" OLYMPIC TRI GRIP WEIGHTS
MIRAFIT DIP BARS
Dumbbells
The weight I use ranges from 4kg to 48kg.
You will notice I do not always use the same weight for every exercise. For example, for lunges, I might use 2 x 20kg, 2 X 15kg, 2 x 10kg dumbbells or even bodyweight if a finisher towards the end of a workout! My weight selection depends on many factors, such as the exercise itself, where it is placed within the workout, what came before that exercise, how my recovery has been, generally how I'm feeling that day, and sometimes just my own preference!
Barbell (for hip thrusts)
I use a barbell for hip thrusts. The barbell I am using is 8.4kg in weight and approximately 120cm in length, so a lot shorter than traditional barbells found in gyms.
Full details of the actual bar I use can be found below. However, I have added similar to my Amazon page that you may find useful.
Mirafit 2-inch Olympic Barbell length
4-foot bar

Bar length: 120cm
Each weight section length: 16cm
Centre section length: 83.5cm
Centre section grip diameter: 28mm
Bar weight: 8.4kg (approx)
Previously, I used a dumbbell for my hip thrusts which is great! Just place a towel under the dumbbell to make it more comfortable!
Plates
The plates I use are 2 x 20kg each on the barbell. I have had these plates for many years when I trained clients on a one-to-one basis. They are made to fit Olympic bars, which are 2" in diameter.
Barbell collars
I purchased my collars from Mirafit (the same company as the barbell); however, any collars that fit a 2-inch barbell are great!
Mirafit 2-inch Olympic weight jaw collars
Barbell pad
The barbell pad I am using is many years old yet still in great condition and can be found, along with similar, on my Amazon page.
Wedges
Many types of wedges are available; some are made from metal, and others foam. This is a personal preference. I have purchased foam and metal to explore, which I prefer, although yoga blocks have always served me well.
Yoga block(s)
Yoga blocks can vary slightly in dimensions, although typically, they are approximately 9" x 6" x 4". It may be useful to have two yoga blocks if you want to perform deficit push-ups or wider stance heel elevated squats. I have linked some within my Amazon page that may be useful.
Mats
The mat I use is approx. 10mm thickness. This type of mat and thickness has always worked well for me. I have bought several mats over the years, yet these thick, simple and plain mats seem to be my favourite! Same mat, just different colours! I have linked some of my mats on my Amazon page.
Step box
I perform step-ups on a box, however, this will be optional as there are great alternatives, such as forward-stepping lunges.
A very stable and sturdy stepper, box, or chair would be needed to perform the step-ups.
The step-ups will typically be performed bodyweight only. However, if you feel confident, certainly add weight!
I purchased the actual box I use from Decathlon. However, I have linked a similar alternative on my Amazon page.
Jump box plyometrics box
This particular box can be changed to different heights by turning it to different positions, including 40, 50 or 60cm. However, I will typically use it at a height of 50cm. Of course, a stable bench or chair is suitable too!
Again, I have linked some similar products on my Amazon page.
Glute band
There are many glute bands out there that can do a brilliant job of adding resistance, so I have linked the one I use and a few others I have as a backup that I would recommend on my Amazon page!
I tend not to buy them in a trio as I have yet to find any of them of sufficient resistance that is best for me, but this is an option for you to consider. It can be tricky to find the best resistance. I know that many of you may not prefer as high a resistance as I do. The resistance within a band can be a more individual preference.
A chair
I use a chair primarily for hip thrusts due to the padding and comfort for my upper & mid back. If you are using a chair for hip thrusts, ideally have it sitting against a wall so it doesn't move when you are getting into position for thrusting.
My chair will move slightly as I get into and out of position occasionally, but I am aware of this and take care when changing position.
For your reference, the seat height from the floor is 46cm.
A bench
I use a bench for Bulgarian lunges, for leaning on during single-arm rows, and for some seated movements like rear delt flyes.
Just for your reference, the dimensions of my bench are (w)1200mm x (d)460mm x (h)485mm.
Push-up bars
These are not needed, but I may show how you can implement them into the workout if you do have access to them or perhaps would consider investing in such equipment. Yoga blocks can also be used to increase available movement within push-ups.
The push-up bars I use are no longer available; they must be over ten years old! This shows just how durable they are and is a great investment, as equipment really can last a long time.
I have linked similar products with good reviews on my Amazon page!
Dip bars
Again, dip bars are not needed, but I may show how you can implement them into the workout if you do have access to them or perhaps would consider investing in such equipment.
The dip bars I use are currently unavailable on Amazon, but there seem to be many on Amazon that are very similar.
For your reference, I am 5 foot 2 inches (158 cm).

What should I do if I miss a day?
Simply carry on where you left off! There will likely be times when we need to manoeuvre our training days, so feel free to change to suit your schedule and energy levels.

I prefer not to jump… how much jumping is included in the IRON program?
There is no jumping within the IRON program. You can perform your own cardiovascular exercise alongside IRON, of course! If low intensity, this might be perfect for those days of training.

Why can't I access all 50 workouts?
During the initial launch of the IRON program, each workout will be released on the day relating to the calendar. Once made available, it will always be there to complete any time that suits you!
This way, throughout the initial launch, many of us can complete the program together and work through the workouts on the same days.

Where can I find out what weights Caroline is using for reference?
I will detail the weights I use during the introduction, where I give an overview of the structure and tips for the workout. Also, in the description box below the workout, you will see the weights I use in written format.
If using two dumbbells, I will typically indicate the weight per dumbbell.
Remember, this is simply for a guide and context. So, if you usually go slightly heavier or lighter than me, it may help you select the weights you might want at hand!

What should I do if my weight feels too light?
You could consider moving through as large of a range of movement as comfortable for you and slowing down the eccentric! You can even pause at the bottom of the movement, such as a squat, to help eliminate any momentum. Or pause at the top of a row before slowly releasing.
Or you may simply need heavier weights!
Investing in heavier dumbbells can really bring benefits over time. Investment in yourself is an incredible gift! If you are new to training, many movements will take time to practise though you may notice quite quickly that you want heavier dumbbells.

What if I do a different pace to Caroline on screen?
Perfect… this is your workout. You may have lighter dumbbells than you wish so that you can perform more reps, of course. It is better to perform push-ups, for example, slower but deeper! All at your own pace! The movements are performed at a slow pace, always with control. Please never feel pressured to rush. Stop, take a moment to reset, then carry on anytime you feel you need to.
Throughout every single workout, work at a pace to suit you. The timer is simply a guide, so stop when you feel you really need to, particularly if your form is being affected.
You will see me sometimes not beginning the descent into a lunge until even 10 seconds into a set as I reposition my front foot, for example! Ensure you are in a stable position before performing the first rep!
I cannot do the exercise without stopping at points before the timer beeps… what does this mean?
If you are pushing yourself and training hard, not managing to last 40 seconds, for example, can be a positive! These workouts are time-based. Focus on quality, not quantity always!
And you will see me do this often! It tends to be rear delt flyes that really make me need to pause!

I can't do a movement… what should I do instead?
There will be times when you prefer not to do a particular exercise and perform an alternative!
It is so important to adapt it to you. For example, forward stepping lunges can be performed rear stepping if the knees prefer.
If you are unable to do push-ups with your knees off the floor at the moment, try doing push-ups with your hands on a chair. Over time aim to place hands on a lower surface such as a box/yoga block, then finally, the floor. However, with push-ups, quality is better than quantity to progress, so even when you do reach the level of push-ups on the floor, if you are doing one or two during the time period, perfect! Simply stop, take a second and see if you can do another one or two; this is better than, say, 20 on the knees!

My knees hurt during lunges and squats; what should I do?
Different issues, including weak glute muscles, restricted ankle mobility, or incorrect form, can cause knee pain.
Strengthening the entire hip area, including the glutes, will allow extra support in a squat and lunge position.
For the full range of motion of a squat, mobility of the ankle joint is essential. Warming up the ankles thoroughly, easing into movements, and practising bodyweight first can help. Another great idea is to elevate the heels during squats…this often feels more comfortable at the ankles and allows for better depth.
Using bands and body weight increases the flexibility of the calf muscles and leg, as well as post-injury or surgery stiffness.
Incorrect form is sometimes the reason for stress on the knees. Practise bodyweight squats to perfect the technique and focus on control of movement.
For a standard squat, feet slightly wider than hips, toes slightly pointed outwards (approx. 15 degrees). Keep your gaze straight ahead. Feet firmly on the floor, and toes should be able to wiggle!
Brace your core, inhale, and push your hips back as if to sit down, whilst keeping your chest open and up the entire time. As you are lowering, focus on knees staying in line with feet, not allowing knees to cave in but also not pushing them wider than feet.
Lower slowly, aiming for your hips to be lower than your knees.
Exhale to rise, maintaining alignment of knees with feet and squeeze glutes at the top.
During lunges, keep the chest open, chin up, brace the core, and front knee in line with the front foot. The back knee should also be inline and point to the floor in the bottom position, and both knees should be approximately 90 degrees. You may need to adjust your stance to the distance between your feet.
Practise bodyweight only and use a mirror to check for your alignment.
If you experience tightness of the quads or hip flexors, it may be down to a lack of flexibility, ensure more time is spent warming up and stretching before beginning and reduce the range of motion of the lunge.
For more information on knee pain, you can read 'I am experiencing knee pain. What should I do?' which can be found within the Knowledge section under the filter 'Physiotherapy'.
We always recommend seeking advice from a physiotherapist.

My lower back is aggravated during Romanian Deadlifts or bent-over rows. Should I perform them?
Both exercises will help strengthen your back, but if not performed correctly, they can cause injury. Correct form is crucial.
Practice bodyweight or holding something very light such as small bottles of water.
During both movements, the back must stay long and flat.
During Romanian deadlifts, only lower to where it is comfortable and where you can maintain a flat back whilst feeling the stretch in your hamstrings.
During a bent-over row, prevent any momentum, lift, and lower at the same pace.
For more information on back pain during hingeing, you can read 'I get low back pain during RDLs. What can I do?' which can be found within the Knowledge section under the filter 'Physiotherapy'.

I feel stiff and have aches post-workout. Is this normal?
DOMS (Delayed Onset Muscle Soreness) is common, particularly when the body is exposed to a new stimulus.
It is common to feel discomfort following a workout and can last up to 3 days.
Symptoms can range from muscle tenderness to severe rehabilitating pain, depending on the type of activity, if new or returning from time off, intensity, duration of exercise and amount of eccentric activities (such as lowering the weight or running).
There are many hypotheses related to why novice and even seasoned athletes experience this.
When we exercise, we place a stimulus on the body that essentially causes trauma... doesn't exactly sound the best, I know! But this micro-trauma helps promote adaptation within the body, so we are better equipped to deal with the exercise next time.
Progressively transition into a new exercise/training modality, particularly if new to it or after long periods of inactivity.
Sufficient protein at main meals (approx. 25g or more) and carbohydrates will promote tissue healing and recovery.
Foods high in antioxidants also have the potential to help promote recovery.
So even though antioxidants are often used as a buzzword but generally in relation to DOMS, eating whole fruits, vegetables, whole grains, and nuts are all rich in naturally occurring antioxidants, so there is no need to overthink this!
Incorporating recovery techniques such as massage, compression, or foam rolling can help reduce the soreness and pain associated with DOMS or even gentle movement!
Depending on the level of discomfort, you may wish to refrain from exercise or training for a few days, but it is a good idea to move your body still, even lower intensity. You can also continue to train to focus on those muscle groups that aren't as sore.
Keep an eye on your body and the duration of discomfort. It is advised to seek medical attention should it last longer than seven days, your urine changes and is abnormally dark in colour, or you have severe swelling in your arms or legs. ­­
And should you not experience DOMS post-workout, it's great too! It doesn't mean that it wasn't an awesome session or that you didn't train hard enough!
And just remember that DOMS could almost be expected if new to training! And it eases over time.
For more information on DOMS, you can read 'What is DOMS?' which can be found within the Knowledge section under the filter 'Training'.

Will this 10-week program help reduce body fat and build muscle?
This program is a full-body resistance training program with many different training methods to develop the skill of applying resistance to place a load on the muscles. When combined with correct nutrition, sufficient sleep, rest, and movement outside of exercise specific, this can contribute to the reduction of fat loss if this is your goal.
But nutrition should be the main focus for most people, although all forms of exercise can complement it.
And more often than not, our nutrition can simply require some small tweaks to help us on our journey. These could include whole foods to make us feel more satisfied, gaining a more structured schedule of meal times to help our hunger cues align with when we normally eat, ' structuring our meals around protein as the base and engineering our envIRONment. Hence, we have healthier options available and minimise grazing through the day, 'loose' planning even to the day ahead of what your meals will likely be, find easy ways to increase fibre, find your favourite meals and have them in rotation through the week, stocking up on cupboard essentials, increasing diversity and the actual amount of vegetables compared to lower in fibre carbohydrates on the plate, and having room for those foods you really like!
No matter if you are training for a marathon or new to resistance training, if you consume more energy than your body uses, you will store energy. And vice versa…irrelevant of the actual exercise or type of food also.
To build muscle, adequate protein at each meal and creating the stimulus to grow muscle through exercise work together.
A very simple way to consider aspects of body composition changes could be:
Cardio for the heart. Daily movement for health. Resistance training to build. Nutrition for weight management, gain or loss.
If you train intensely and focused, consume sufficient protein throughout the day, alongside adequate calories (if in deficit, this should be minimal), perform the repetitions (notably the compound lifts), lift heavy (of course, this is different for everyone, and most of us are not in a typical gym setting, but you can still make those weights feel heavier with this program and perform each movement the best you can and a full range of motion), incorporate cardio / non-exercise activity, get plenty of sleep and taking those active/rest days will all contribute to building strength, seeing changes in your body composition and help you feel simply amazing!
Having realistic expectations with this and any program you embark on is important. Firstly, what you put in is what you get out of it!
If you aim to become stronger but don't focus on the lowering portion of the movement or want to lose body fat but not move through the day aside from the workout alone, these are examples of how you could hinder your progress.
Consider a realistic timetable and schedule for your training and any extras such as that daily walk, prepping food or weekly cycle session outdoors.
If wanting to build muscle and increase your body weight or lose body fat, the training is the same!
We don't need to perform a squat differently if we want to increase muscle, lose body fat or both.
The same could be said about nutrition…the overall energy balance will dictate.
It comes down to the energy balance, which means considering your nutrition and movement.
Yes, calories in and out are the equation, but we all can appreciate the impact of different types of food to support our energy levels, how we feel after consuming, our lifestyle and overall health. Remember that highly processed foods, although fine to consume at certain times, will not add any additional benefits to our health plus can often leave us feeling still hungry! This is why I tend not to eat a lot of ultra-processed foods…I can eat it too fast, and it doesn't seem to fill me up!
And so it is my choice not to have those foods on a regular basis. I choose not to…as opposed to 'I can't have'.
Considering a higher protein intake, more fibrous carbohydrates, particularly vegetables, and reducing ultra-processed foods can be those small changes that actually make a big difference to not only body composition but how we feel satiety and energy! These three changes alone can make a huge difference to many people.
Something to consider is our movement outside of training. The three simple changes above, along with a simple step count, can make us aware of how much we move outside of training which is a large part of energy utilised throughout the day and can bring huge benefits…especially over time.
Also, be realistic with the expectations of yourself…there will be days when you are fired up and have such energy that that 10kg feels so much lighter, but then there'll be days where you could think of nothing worse than lifting a dumbbell or holding a plank! I would suggest that for those days when you are feeling lethargic, go for a walk, do a stretch session, even low-impact cardio and resume the next day! Though we are all different, many of us come around as soon as we begin and get into it!
Resistance training has repeatedly been shown in research to help minimise or even prevent the loss of muscle, therefore, increasing the amount of fat loss during a fat-loss period. I'm pretty sure most of us would prefer to lose body fat primarily as opposed to 50/50 body fat and muscle. Resistance training promotes muscle protein synthesis to help mitigate muscle loss which is important for many metabolic adaptations and overall health.
Building lean muscle mass does increase our metabolic rate…although this is a small amount, the studies investigating this tend to be based on being sedentary. But the same person who has gained, say, 10lbs of muscle compared with another person who has not will use more energy simply to move around! More mass to carry around!

Are there abs-specific exercises within this program?
There will be some core and abs specific within some of the workouts; however, to get the most out of the time, the workouts will mostly be directed towards muscle groups such as the chest, back, shoulders, quads, hamstrings and glutes!
However, within some of the full-body workouts, there will be ab-specific exercises!
You can absolutely train your abs, specifically post any workout if you like! A simple 10 minutes routine is perfect! However, if you want to prioritise training your ab muscles and usually feel tired post-workout, so the level of effort is affected, you can try doing your ab work at the beginning, prior to your other muscle groups!
Training the actual abdominal muscles work similarly to other muscles… they will become stronger and larger hence more definition; however ab specific training is not essential for a strong core.
We all have a 'six pack', and making it visible is dependent upon body fat levels, where we tend to store our body fat and also how developed the abdominal muscles are in regards to hypertrophy. That is why 'abs are revealed in the kitchen' is a well-known saying!
One of the best exercises that has worked for me but also has been shown in research is the crunch and reverse crunch. It stimulates the rectus abdominals with extension and flexion of the spine. A great option can be to use a stability ball to increase this range of movement too! Movements that generally involve anteriorly bring the hips closer to the chest or the chest closer to the hips.
The core itself provides a stable base for the body, connecting the upper and lower extremities. It is, in fact, considered to include not only the abdominal muscles but also the pelvic floor muscles, the muscles of our spine and the diaphragm.
Compound movements, due to being multi-joint, require great stability from the core. Intra-abdominal pressure is created by the core to allow for the level of stability required to carry out such movements.
Another contributor to training the core is unilateral exercises. These unilateral exercises can take many forms; however, it is the common denominator of asymmetrical loading that requires activation from not only the obliques but also the rectus abdominus and erector spinae!
We will be placing demand on the core throughout the program but add in extra ab specific if this is an area you want to prioritise!

Will ab-specific workouts or exercises help reduce fat around my tummy? Will this leg workout slim my legs?
Simply put, no, you cannot spot reduce; however, exercise will contribute to energy burned. Ab-specific exercises help strengthen the abdominal muscles and the surrounding areas, which can lead to increases in the size of the muscles, which can allow for the abdominal muscles to be visible at a higher body fat level.
I am new to weight training / this intensity of training, and the scales say I weigh heavier.
Initially, a new training program will put stress on the muscle fibres, causing micro-trauma and some inflammation. This initial response can lead to temporary water retention, but this is temporary.
Listen to your body during the workouts and give your muscles rest days.
Stepping on the scales will not consider muscle mass and growth, hormones, fluid retention, and females' menstrual cycles.
For more information on what the scales actually can tell us, you can read 'Weight gain when starting to exercise', which can be found within the Knowledge section under the filter 'Where do I start?'.

I am still the same weight on the scales but have lost body fat.
1 kg of fat weighs the same as 1 kg of muscle, but muscle takes less space than fat. It is possible to weigh the same as someone else or even heavier yet be 'leaner' than that person at the same height!
For more information on what the scales actually can tell us, you can read 'Weight gain when starting to exercise', which can be found within the Knowledge section under the filter 'Where do I start?'.

Is there cardio within this program?
There are no designated cardio workouts within the IRON program.
For many years, cardio was considered 30 minutes on the cross trainer or a walk; however, weight/resistance training also benefits the heart, which is basically what cardio relates to, being any activity that requires the heart rate to be elevated and sustained.
Resistance training is cardio too! But specificity matters, so if you want to improve your cardiovascular health, simply perform the type of cardio you enjoy!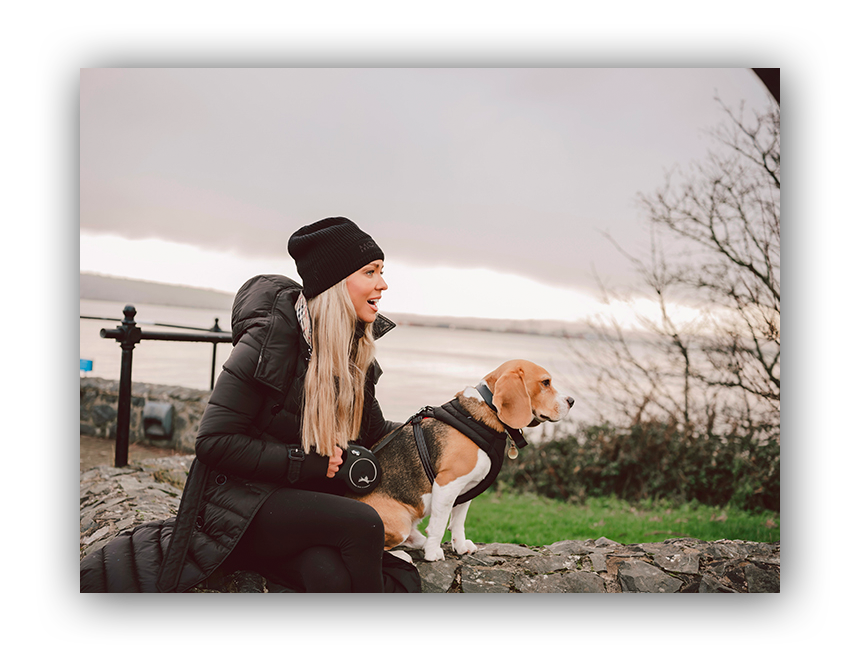 Walking is a great way to move to complement resistance training, as it requires little to no recovery and is less likely to affect your workouts.
Cardio is so much more than just the energy it uses!
And yes, cardio tends to use more energy than resistance training….but this is actually very small and acute.
After we lift, our body uses energy to repair the tissue 'injured' during the session, and also energy is needed to actually build the muscle! Something that cardio does not do.
I would encourage you to simply perform the cardio that you enjoy, as the most important aspect of exercise, in general, is that you will do it! And much more likely if you enjoy it and it works for your lifestyle! Whether you love a weekly spin class, a hike at the weekends or a long run every Sunday, they all can work with resistance training. Just keep an eye on how you are recovering…this includes sleep too!
One final note on cardio is that too much of a good thing is possible, particularly if the goal is to increase energy expenditure.
The 'Constrained energy model' has been proposed as a theory as to why, when we increase our exercise past a level that is optimal, the body adapts to reducing energy through other means. Our bodies may adjust the amount of energy spent on behavioural and other physiological activities, such as growth, our immune system and the gastrointestinal system, to be able to provide energy to other systems….even down to brain power, posture and fidgeting!
Although more research is needed, it is something to consider as that extra cardio session may offer less return than you might think in relation to expended energy expenditure due to the diminishing returns.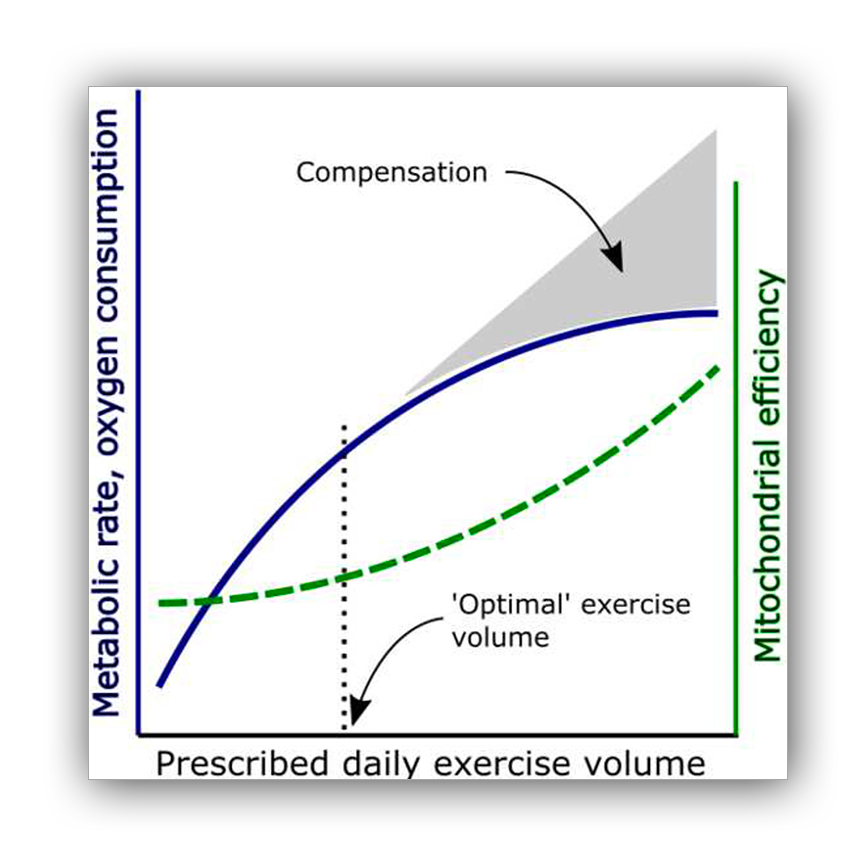 The Mystery of Energy Compensation
Lewis G. Halsey
Physiological and Biochemical Zoology 2021 94:6, 380-393
The relationship between prescribed daily exercise volume and the additional daily energy expenditure as a result of that exercise probably approximates a positive curve of diminishing returns due to progressive increases in energy compensation.
The literature is overwhelmingly supportive of incorporating both resistance and cardio exercise for improving our cardiometabolic health but also maintaining fat loss!
There are no strict rules…the main things to consider are how you can perform if allowing sufficient recovery and how you are feeling!

I don't really sweat… am I working hard enough? Are the workouts not challenging me?
Sweat is 99% water loss, 1% salt loss and has zero correlation to actual fat loss. Yes, a high-intensity exercise where we can sweat a lot uses energy, but so does walking.
And what about weighing less after a good sweat session?
If you were to stand on the scale, you might be lighter due to the loss of water… but take a drink, and this 'weight loss' is eradicated!
Water loss is not fat loss. Nor is sweat an indicator of a good session!
Sometimes I hardly sweat at all! Though I don't use this as an indicator of a good session….far from it!
I tend to sweat more if a lower body day or full body; however if I have just completed a shoulder, arm, back or chest session, I might hardly be sweating at all! This doesn't mean I didn't work hard or use energy.
Whereas some of us sweat a lot, this doesn't mean one person is working harder than the other!
Also, sweat is simply our body's way of cooling down and is dependent on many factors, including our actual DNA, the distribution of our sweat glands, hydration levels, heart rate, our gender, the temperature of the envIRONment, rest periods, clothing, exercise intensity and can even depend on if you are working one muscle at a time, an entire muscle group, or full body movement!
If fat loss is your goal, you could consider walking. This is well known as a simple way to increase the energy used by the body, helping towards an energy deficit…yet we can walk and not necessarily sweat. So, sweating can be an indicator of intensity; however, it is not indicative of fat loss or effort!
Sweating cools us down to help us continue our exercise; it has microbial properties that help protect against infections, opens our pores to help rid bacteria, and promotes that feel-good feeling! We all can appreciate how good we feel after a sweaty session!
Bottom line: Sweating has benefits and its place, but try not to focus on sweat when lifting….focus on sending the message to your body that it needs to become stronger for its next workout!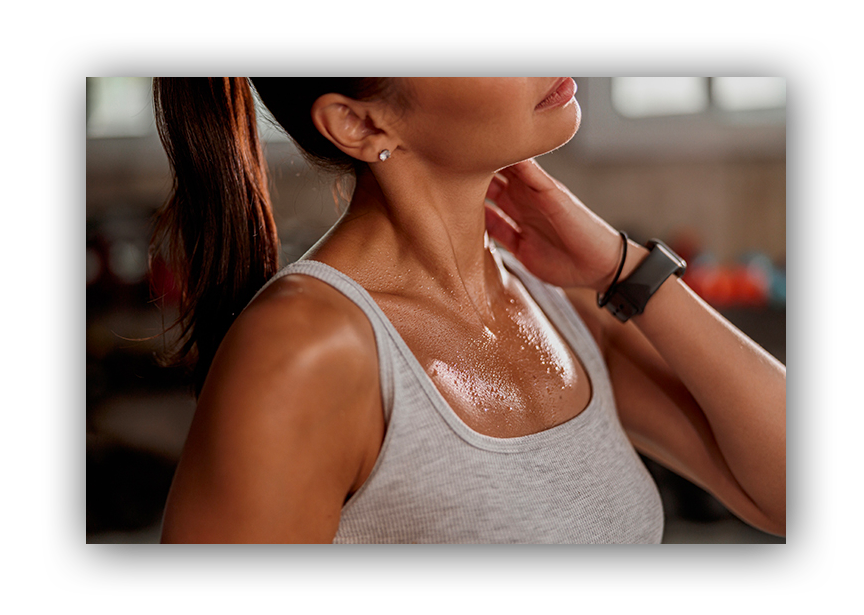 How do I implement 'progressive overload'?
Progressive overload comes in many formats, not just slowly increasing the weight you use (whilst maintaining correct form) but also those training variables that I love, including repetitions, giant sets, slower eccentrics, isometrics and many more!
Adapting and changing our training routines is important if we want to advance our training and fitness goals, as our bodies are constantly adapting to the training stimulus.
Progressive overload provides us with the perfect framework to overcome this.
The actual term Over'load' can lead us to assume the load is the main factor. However, our muscles do not 'know' what weight is being lifted.
The muscles experience the tension and stress that is placed on them. It is the mechanical tension experienced under a load that promotes the stress and the subsequent adaptations.
Resistance training essentially causes a stressor to the muscles, affects homeostasis and promotes muscle growth as a result.
If you are relatively new to resistance training, you can find you could lift heavier quite quickly, however; I would stress always being careful. It has taken me years to progress to the weight I use. In saying that, the weight I use is something I tend not to focus on. And what you lift shouldn't be compared to what others lift. I lift heavier than many people, yet I lift lighter than many people too!
I have never injured myself, and I attribute this to applying tension to my muscles through other means aside from just the load… and I certainly don't ego lifting. In fact, it could take me up to a year before I increase weight for specific exercises. However, this is because I have been resistance training for many years! It isn't exclusively about going heavier all of the time, and I like to reiterate the importance of using the muscle(s), squeezing the muscles, as opposed to simply 'getting the weight up'!
If you are new to training, though, increases in strength can be at a faster pace, so the need for investing in new dumbbells may appear!
Note down the weights you have used for that specific workout on that day within the note box below the workout, or if printing off the calendar, there is space under each day to input notes relating to weights used. Should you revisit that workout or program, you may want to increase the weight or remain the same but perform more reps or even improve on the quality of the reps (my favourite!).
Remember that when it feels particularly challenging, that's ok! We are seeking a challenge to the muscle to gain adaptations. This will promote muscle building, stronger bones and many other benefits to our overall health and longevity.

How do I count my reps within timer-based workouts?
The workouts will be time-based, as opposed to rep-based. However, a typical range of reps per compound movement will likely be between 8-15 reps depending on the weight you are using, if it is the 2nd or 3rd set or where the first exercise is within the workout.
I have always used a timer in my own personal workouts, but I know it may feel different if you are used to counting reps.
I just want to stress the fact that even though the timer is on, it is not 'as many reps as possible', particularly when lifting weights. In fact, sometimes I think of it as 'as few reps as possible' as this usually involves more control, increased time under tension, and applies even greater time under tension!
Every workout I do, I treat it as a time to practice! I am always looking to improve even more, feel the contraction more even though moving from point A to point B, and often imagine my muscle(s) lengthening and then contracting as I lift.
These are my real workouts, and even though I have performed these movements many times, sometimes I still let my head drop and neck not in line with my spine perfectly, or the last rep of chest press involves the dumbbells being shaky slightly trying to finish that rep but even though I am pushing myself, I know my limits also. When I pause, it is usually because I know I won't be able to perform the next rep as well as I should! I could still likely perform the reps, but I might arch my lower back, lift heels off the floor or aggravate my lower back depending on the exercise.
Carefully set the dumbbell(s) down, pause or reduce the weight if you prefer.
I usually keep the same weight as appose to reducing the weight simply as this is how I have always trained. Sometimes all I need is to pause for a moment, reset and go for more!
Also, the fact that I aim not to record using one pair of dumbbells which I can do it easier for you to follow me, but at times, I may use three pairs of dumbbells. However, if you have access to various weights, definitely keep those nearby!
If you are performing at a pace suitable for the weight you are using, you will likely perform between 8-15 reps per set on average.
You can simply record the weight and reps you use within the note section on each workout page, so should you revisit, you can gauge progress!

Weekly overview
There will be a weekly overview each Sunday evening to provide a general overview of what is coming that week and also any other information relating to training or notifications of new content!
This will be available within the Knowledge area each Sunday evening under the filter 'The IRON Program' and shared within the private Facebook community.

Activity aside from the IRON program
Every one of us is different, of course, and this is very true when it comes to energy levels, goals we are working towards, movement throughout the day such as steps at work, whether we walk a dog daily, training for a marathon, time restraints, sleep patterns, other sports, etc.
It is important to have that balance in our lives so that we can continue to enjoy our training and gain the most from our hard work.
Some of us train early in the morning fast, others later in the morning post the first meal of the day, and many in the evening after work. The question of what time is best or fasted versus not fasted really is personal to you.
What works for you is the best way!
I will be keeping up my daily walks, normally 60 minutes, with the odd run or hill sprints if the sun is out, but this is not planned and is usually short notice!
I generally plan activities with my family at the weekend, such as ice skating, a hike up Cavehill or bouldering!

Rest & recovery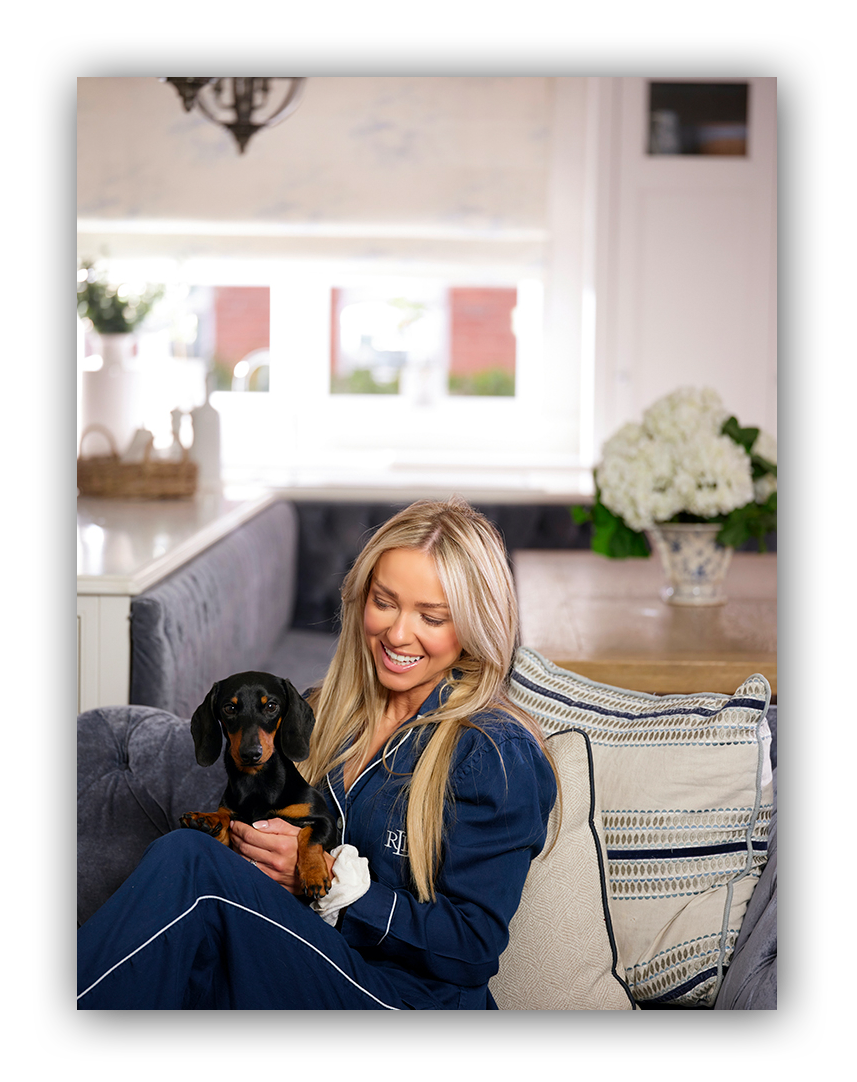 These workouts will demand a lot from you physically and mentally.
It is important to have time to really let your body rest and repair in order to build.
There may be times when energy is slightly lower, and this is when you might select slightly lighter weights or find you are mentally challenged even more during the workout, and this is completely normal for most of us!
Sleep is the most important aspect for all areas of performing, whether work, training, or overall daily life, so never underestimate the power of a great night's sleep!
We often hear about over-training as something we should be aware of, yet under-recovery can often be overlooked.
You should not be 'dreading' your workouts, feeling like you are repressing in strength, feeling constantly sore, finding it difficult to sleep through the night, irritable and generally low energy, or, if you track your heart rate, a lower heart rate than normal, or experiencing less heart rate variability…these are all possible indicators of under-recovery.
A consideration could be trying to have at least one day of rest if having trained consecutively for three days. This is due to the fact that without recovery, you won't grow. But with everything, it is individual. Some of you may be able to train at a higher volume across a week, recover well, and it is not conducive to overtraining. Whilst some of us may be under-recovered, and this will likely impact performance and subsequent growth, not to mention our enjoyment of exercise, heightened ongoing DOMS and the joy that exercise can bring.
'Under recovery' is sometimes more the culprit than overtraining.
During the IRON program, focus on sending those signals to our body that it needs to become stronger. But also listen to those signals our body is telling us….so that we have a healthy body that is able to adapt!

Final message
Know that you are looking after your body for the future by making it stronger. And know that seeking perfectionism is actually an imperfect action! Be ready for curve balls that get in the way of your training…because life likes to throw stuff at us every now and again!
Train hard.
With intent.
And finally, have fun with it!
I'll see you in your workout!
Cx

Useful links
---